Is it safe to drink tap water in Spain? Yes! At least 99.5% of all public tap water in Spain is safe to drink. According to a recent study, Seville has the best tap water of all big cities in Spain. Do people – locals and travellers – actually drink from the tap in Seville (in Spanish: agua de grifo)? And where can you refill? That's what our Ambassadors Hella and Michal are trying to find out. Time for a quick update from Seville, Spain.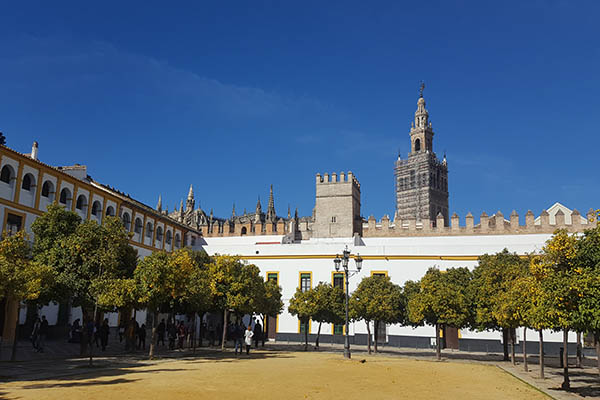 DO PEOPLE DRINK TAP WATER IN SEVILLE?
So apparently tap water in Seville is the best in Spain. We don't know if this is true, but we agree that Seville's tap water is good compared to other places we visited. It has a slight chlorine taste, but one quickly get used to this.
Many people seem to drink tap water at home or in the hostel, but they buy bottled water in restaurants or when on the go. These insights were confirmed by employees from several venues. Still, some people choose not to drink the tap water, like Monica (tourist from Northern Ireland): "I feel bad about buying plastic bottles, but I really don't like the taste of tap water here."
PLASTIC BOTTLES & REFILL PLACES IN SEVILLE
What do we see on the streets? Our observations:
Single-use plastic water bottles can be found on every corner: in the grocery store, kiosk, tourist shop and ho(s)tel. Even so claimed eco-friendly venues usually sell single-use plastic bottles. Read the next blog for some found some positive exceptions.
Most restaurants and bars serve water in single-use plastic bottles, unless one specifically asks for tap water. Note: Andalusian cafés and bars are required by law to provide free drinking water to customers (as part of a regional government plan to improve the population's health).
There is no deposit on plastic water bottles (only on >20 litre gallons).
Some venues (usually more luxurious) offer glass bottled water.
There are bars and restaurants with a tap water jug and glasses available for self-service. If not, you can ask for it. A few bars serve cold tap water.
Public drinking fountains can be found in many squares and public spaces, also in touristy areas. These fountains have signposts indicating it's safe to drink. The public drinking fountains are sometimes hard to spot, and sometimes unsuitable for bottle refills.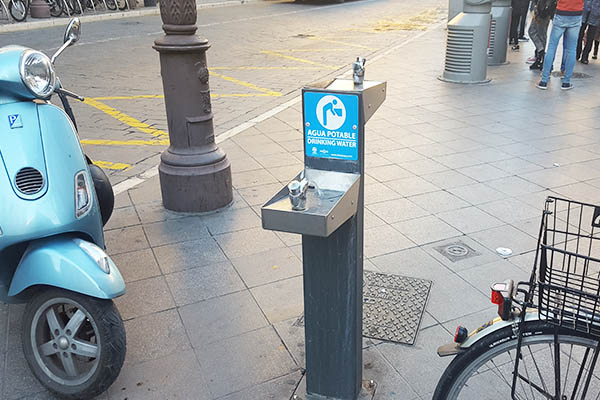 PLASTIC BOTTLES FOR SALE ON EVERY CORNER
Many tourists buy single-use plastic water bottles out of convenience. You can find them on any street corner in town, for usually €1,- (for 0,5 L). Hostel staff and shop workers stated they sell a lot more water bottles in summer, when it gets really hot. In supermarket the water is cheaper, around €0,45 for 0,5L (cold water). Prices for large bottles can go down to €0,65,- for 5L (unchilled).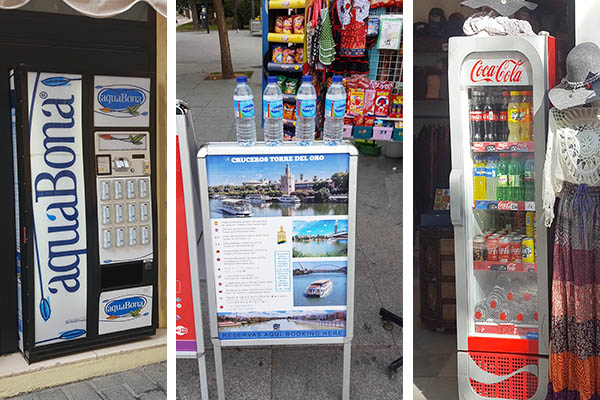 OPPORTUNITIES
Overall, we think Seville has decent tap water, so whenever you're visiting this beautiful city, ask for agua de grifo! If you want cold water, you still have to buy plastic bottles in most bars, restaurants or kiosks. We see a gap for cold water refill stations, and an overview of all refill points. In addition, the taste of tap water can be improved by using filters. We are going to test a filter for our next blog, so stay tuned!