The ideal 2050 scenario: no landfills, no litter, minimised incineration, ownership of waste streams, legislation & harmonisation, and extended producer responsibility. It sounds fantastic, but how to get there? Circular Plastics NL tries to find an answer.
ROADMAP CIRCULAR PLASTICS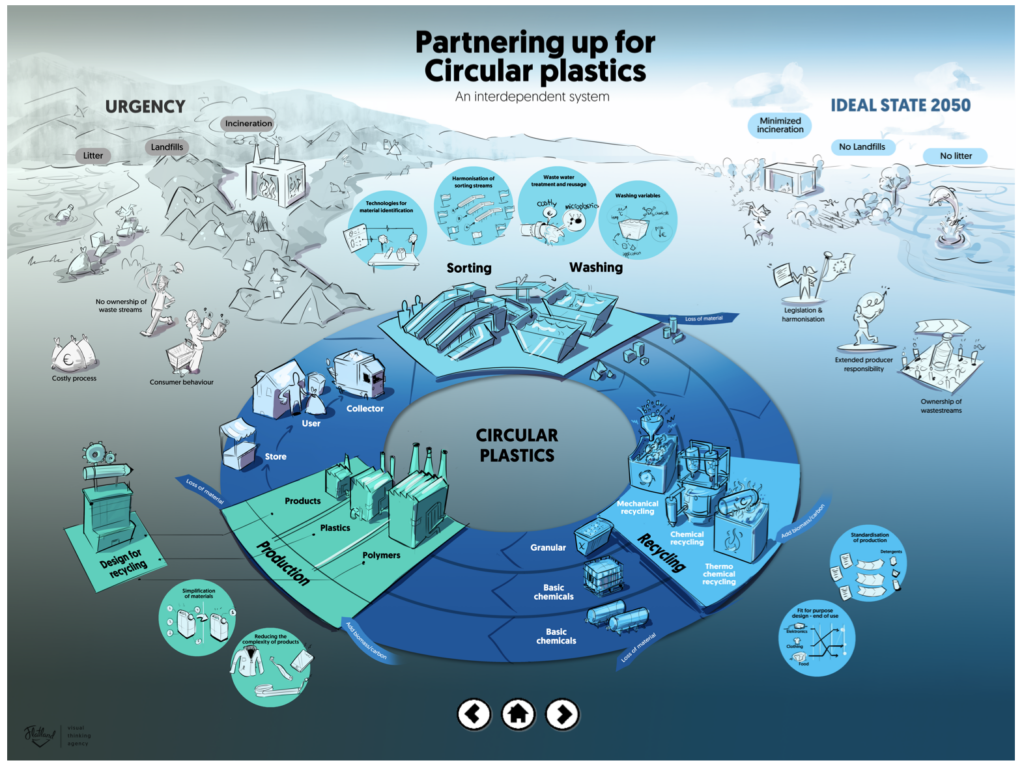 Together with industrial experts, the Circular Plastics Initiative created a cool roadmap for circular plastics. This visual represents the needed steps towards a future with circular plastics. The interactive website shows a representation of how this path would look like. There you find key elements that need our focus to make circular plastics possible. We summarise them below:
Design for/from recycling, e.g.:

What are the needed design rules and processes that have to be implemented/ used to be compliant to (new) legislation (for the various value chains and applications)
Modelling multi-layer mono-polymer process design and functionality for various value chains/applications

Chemical recycling, e.g.:

Efficient and effective separation techniques to deliver clean recyclates
Optimize the efficiency of pre- treatment technologies
Develop recycled material for multi-loop recycling

Sorting techniques, e.g.:

Assessment of needed characterization and sorting techniques for optimized sorting for the various value chains

Mechanical recycling, e.g.:

New and cheap in-line separation techniques for various types of mechanical recycling processes (film extrusion, injection moulding, blow moulding, pipe/ profile extrusion)
ABOUT CIRCULAR PLASTICS NL
On January 1st 2023, Circular Plastics NL started: an 8-year national growth fund program with a >€ 500 million total budget. Various companies and knowledge institutions work together with the Dutch government. Find out more on the Circular Plastics Initiative and join their plastics community op LinkedIn.
RECYCLE OR REUSE?
We agree with the listed priorities in the perspective of a circular economy, and many improvements are needed (legislation, new technologies, consumer behaviour, etc.). However, we wonder if prevention of plastics is also prioritised. Take for example, a plastic packaging containing 500 gram oats. We can switch to a plastic that is easy to recycle, but do we need that packaging in the first place?
Bulk stores offer good alternatives. Several Zero Waste movements have published plastic free guides. Reduce and refill first, then think about recycling! Or perhaps another government funded program tackles this? Leave your comment below.