MEET THE TEAM
Hello reader! We are Roos, Madelief, Félice and Hella. Four Dutch girls from Amsterdam, around 30 years old. We work independently, and collaborate with several refill organisations all over the world.
WE ARE A NOT-FOR-PROFIT ORGANISATION
Refill Ambassadors is a not-for-profit organisation. We work as volunteers, for free (a.k.a. fun) because we feel this project matters. Do you like Refill Ambassadors? With your donation, we can cover our operational costs. All help is appreciated! Our details:
Refill Ambassadors
Djambistraat 44-3
1094 BB Amsterdam
The Netherlands
info@refillambassadors.com
Refill Ambassadors is registered as "Stichting Refill Ambassadors"
KvK (Chamber of Commerce in the Netherlands): 75062623 / RISN: 860126857
IBAN number: NL56 TRIO 0379 6870 03  BIC/SWIFT = TRIONL2U
GET IN TOUCH
Questions? Do you want to establish a refill point for your business? Or collaborate?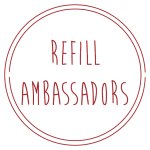 info@refillambassadors.com / +31 6 4095 3435