MEET THE TEAM
Hello reader! We are Roos, Félice, Madelief and Hella. Four Dutch girls from Amsterdam, in our thirties. We collaborate with several refill organisations and refill ambassadors all over the world. We work independently.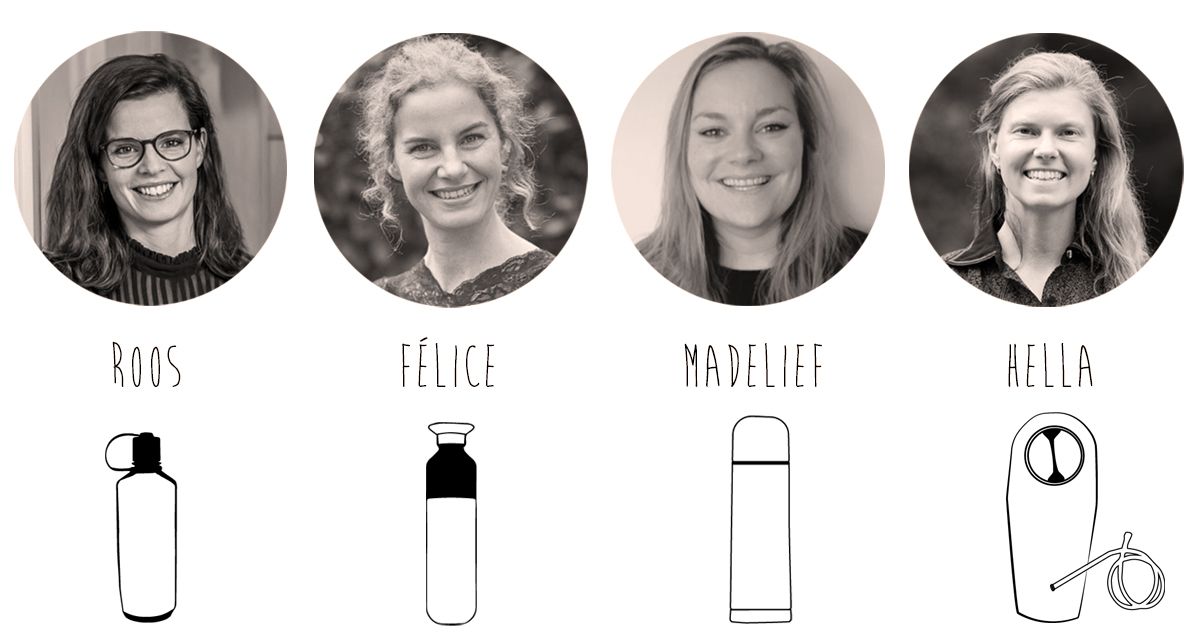 More about us: how sustainable are we ourselves? This is an interesting question. Let's be clear: we are no zero-waste heroes, neither 'green angels'. The easiest thing is to bring our own cups, bottles and boxes. Furthermore we try to be aware of our own footprint and make choices that work for us. For example we all love vegan food, though we must admit Madelief is the most creative DIY chef. Roos loves cycling, and even crosses half the city to visit a particular bulk store. Hella makes her own furniture from waste materials, while Félice follows the latest environmental friendly developments. Most importantly, we want to keep learning, have fun and inspire others to join the #Refillution. 
WE ARE A NONPROFIT ORGANISATION
Refill Ambassadors is a nonprofit organisation. We work for free (a.k.a. fun) because we feel this project matters. We all have our own jobs so this project is done in our free time. The key is to keep expenses low and collect what we need. In 2019, we won the DESIGNSCAPES 1st Open Call grant (€5.000). We use this money to cover our operational costs.  
Do you like Refill Ambassadors? With your support, we can raise more awareness and build the refill movement. All help is appreciated! Our details:
Refill Ambassadors
Djambistraat 44-3
1094 BB Amsterdam
The Netherlands
info@refillambassadors.com
Refill Ambassadors is registered as "Stichting Refill Ambassadors"
KvK (Chamber of Commerce in the Netherlands): 75062623 / RISN: 860126857
IBAN number: NL56 TRIO 0379 6870 03  BIC/SWIFT = TRIONL2U
FOLLOW US
Join the #Refillution! We share latest updates on:
GET IN TOUCH
Questions? Do you want to establish a refill point for your business? Or become a refill ambassador yourself? 
info@refillambassadors.com / +31 6 4095 3435
You are welcome to leave a comment at one of our blogs. Please have some patience, as we review all comments before it's published (to avoid spam). No hidden ads please!