Have you already heard of mymizu? If not, prepare yourself for a must-read. mymizu – Japan's first free water refill app – was launched in September 2019. The app now displays almost 200.000 refill stations around the world, with new refill points being added every day. With around 20.000 app downloads. No kidding! And this is only the beginning. With the Tokyo 2020 Olympic and Paralympic Games approaching, mymizu can lead to a global movement. Ready to get inspired? Read our interview with Robin Lewis, co-founder at mymizu.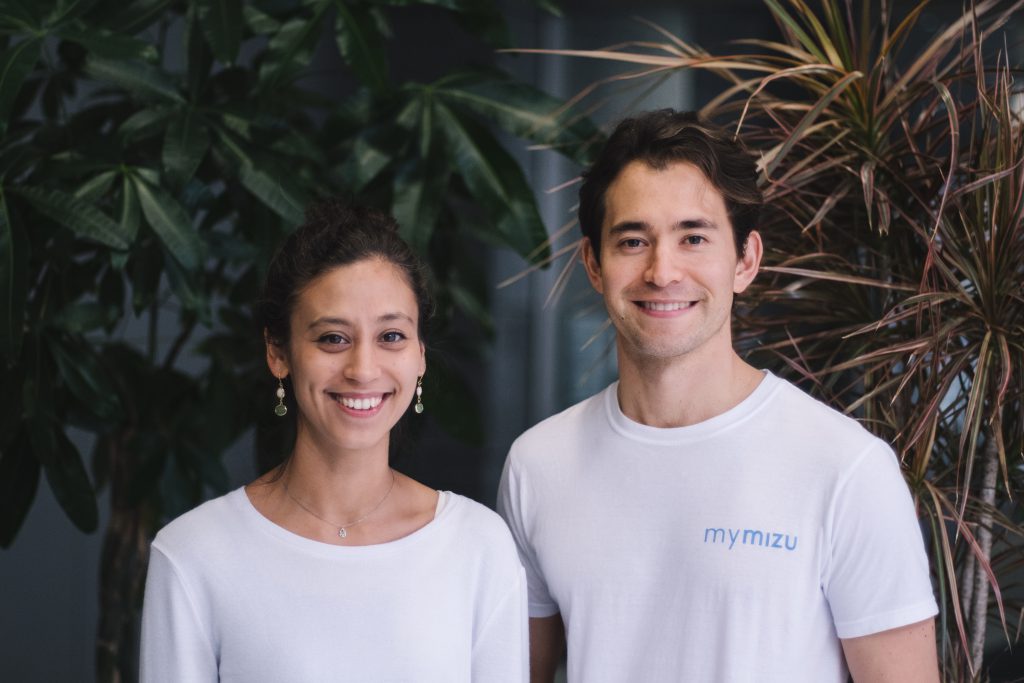 The mymizu co-founders: Mariko McTier (l) & Robin Lewis (r)
 INTERVIEW WITH MYMIZU CO-FOUNDER ROBIN LEWIS
 What is mymizu?
mymizu ("mizu" means water in Japanese) is Japan's first free water refill app. My team and I are working to expand the service across Japan and the world, especially as we approach the Tokyo 2020 Olympic and Paralympic Games.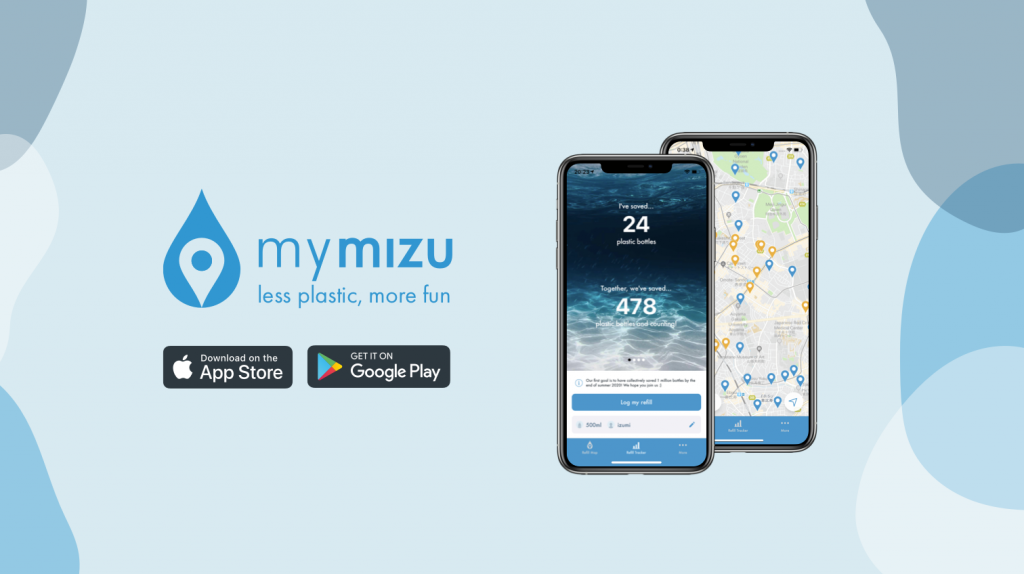 That makes sense. In six months, the Olympic and Paralympic Games will attract millions of visitors. Visitors that will be responsible for a huge consumption of single-use plastics, like water bottles. Here mymizu can play a positive role. Is this also the reason why you started mymizu?
No. It all started with a trip to Okinawa, a beautiful cluster of islands in Japan that is known as a tropical paradise. My co-founder Mariko and I were blown away at how beautiful the beaches were, but as soon as we went off-the-beaten-track, we started finding more and more rubbish – especially plastic. I knew we were facing unprecedented levels of plastic waste in oceans globally, but seeing this hit home that it was also a major problem – even here, in Japan. It seemed totally crazy that we were paying so much money for something we didn't really need (bottled water) and that this habit was having an enormous effect on our natural environment, and so we decided to try and stop the problem at the source.
Good thinking, we at Refill Ambassadors also feel tackling the problem at the source is the most effective way. This can be accomplished with adequate government policies, with the help of individuals, numerous zero-waste organisations and through refill apps like mymizu. How did you progress afterwards?
So, after several months of research, development and preparation, we launched the beta version of the mymizu app in September 2019. Within 4 months of launching, our app has been downloaded almost 20,000 times across 30 countries and have had over 1,500 refill points added by our users. We have also had hundreds of cafes, restaurants and hotels (including leading brands like Hilton Hotel and Patagonia) register on our platform as refill stations. We now display almost 200,000 refill points around the world, with new refill points being added every day – so you can you use the mymizu app anywhere in the world!
Amazing! Some plans take years to happen, your project already exceeded all expectations within a few months. How do you add new refill stations to the app? Is it free of charge?
Yes, it is free of charge! There is an "add refill spot" feature in the app, which allows users to add photos and other useful information about water stations. For refill partners (e.g. cafes, restaurants and hotels) – they just have to fill in a simple form on our website. We have new businesses registering every day, not just in Japan but even in Germany, Singapore and other countries too!
 Does mymizu earn any money? Do you sell anything or receive donations?
We ran a crowdfunding campaign on Kickstarter, and were blown away by the response. We hit our fundraising target within 48 hours and this helped to develop our app and educational programs. Since then, we have also received support from several foundations, corporations and governments to scale our service, but we are still looking for supporters to help us expand our mission in 2020. We also have had the honour of being awarded the iF World Design Award "Social Impact Prize 2019" which also was accompanied by some financial support.
Congratulations. We hope you'll manage to get the financial means necessary to create an even bigger impact. mymizu may be Japan's 1st free refill app, worldwide there are some others like RefillMyBottle, Closca, Tap and Refill. Do you collaborate with other refill apps  / refill organisations in the world?
We have had contact with several people working in the refill space, and are exploring collaboration opportunities as we speak! This is something we would love to do. We are also now collaborating with local governments, schools and universities to further this movement for sustainability.
WHO ARE THE PEOPLE BEHIND MYMIZU?
We would love to hear more about possible collaborations, so please keep us informed. On our blog, we are also write about the people behind refill organisations. Can you tell us something about the mymizu team?
Our team is a very diverse group, in terms of nationality, background and interests! We have engineers, designers, environmentalists, as well as marketing professionals, copywriters and so on. We have people from Japan, UK, New Zealand, Australia and China, just to name a few nationalities! This diversity is critical for us, as we try and make an impact in Japan and around the world.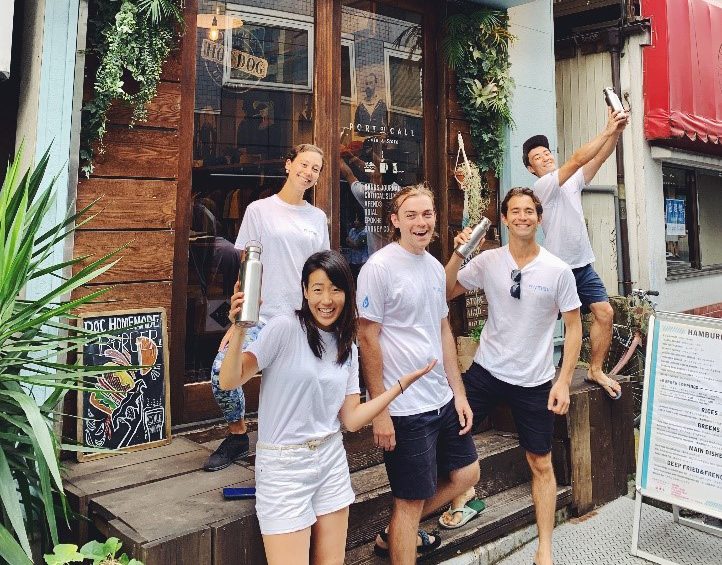 The mymizu team
Interesting. What about your own background? Who is Robin Lewis?
Sure! I'm half Japanese and half British, and grew up mainly between the UK and Japan. In 2011, the big earthquake and tsunami that hit Japan, leading to the Fukushima crisis, was a major turning point in my life. I spent several months in some of the worst affected areas (where my Japanese side of the family is originally from), and my time there made me question what is really important and fuelled my interest in sustainability, climate change and so on. I spent over half a decade working in humanitarian aid and international development after the earthquake, based in Japan but working in countries like Nepal, Haiti and Mozambique, mainly in post-disaster situations. I now work in the climate change space at an inter-governmental level, while also running mymizu, and an organisation called Social Innovation Japan.
Thank you for sharing your personal story. It seems you have a very busy schedule. Quite impressive you're able to combine these different activities.
DREAMS AND NEXT STEPS @MYMIZU
Last question: what do you at mymizu dream of?
We dream about going beyond just water, and would love to extend the service to other products such as coffee and tea, for example! Our ultimate goal is to change consumer behaviour in Japan and more widely, and we see mymizu as just the first step in doing so.
Furthermore, we consider mymizu to not just be an app – it's a movement. Education and in-person engagement are critical components of what we are trying to accomplish. In just the past 4 months, we have done over 50 talks and workshops at schools, universities and companies on themes such as sustainability and plastic consumption, and are using social media and other creative means to raise awareness of the plastics crisis. This is something that we will scale up going forward. We're also excited to have recently established a mymizu team in Singapore and hope to roll out more local chapters going forward!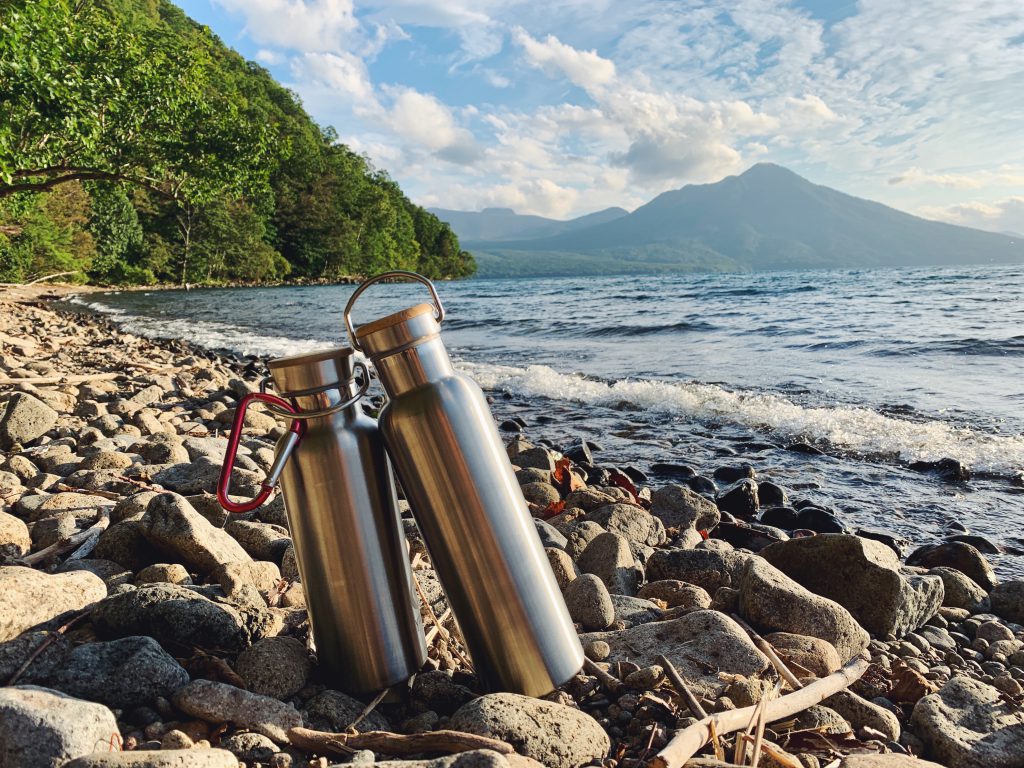 Thank you so much for sharing your personal story and plans with us. We are curious to find out where you and mymizu will be standing in one year from now. After the Olympic & Paralympic Games 2020. For now, we keep in touch so please keep us informed.
READY TO JOIN THIS MOVEMENT?
The mymizu app enables users to track their impact; specifically the CO2 emissions, bottles and money people save by refilling!  Mymizu's first big target is to track the elimination of 1 MILLION bottles in 2020 (#1millionbottles challenge). They would love for you to track your impact and join them in this mission! So download the app (available on iOS and Android) and start refilling. The app is available in English and Japanese.
Read more about mymizu via their website, Facebook, Instagram, Twitter and LinkedIn pages.
Connect with Robin Lewis on LinkedIn
Source images: mymizu.co