Have you already found your BBF? No, we are not talking about your Best Friend Forever. We are talking about your Best Bottle Forever, or in short BBF. In this blog we explain you all the essentials on reusable bottles.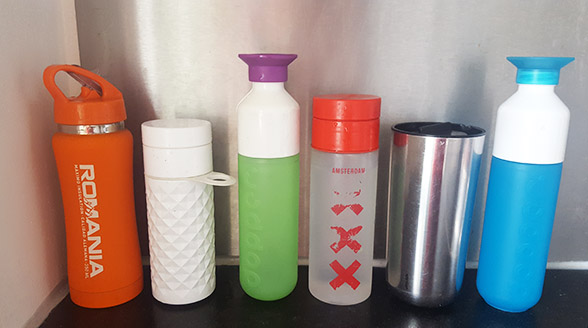 WHY DO I NEED A BBF?
First of all, we think it is much nicer to drink from a well-designed bottle than a shitty PET bottle. Some reusable bottles can keep the water hot or cool for hours. It also saves you money. Refilling is often free or at least a lot cheaper than buying new single-use plastic water bottles. Last but not least, it's better for the planet.
WHAT IS THE FOOTPRINT OF A REUSABLE BOTTLE?
Many people ask themselves the question: What is better for the environment, to drink from a mug or use disposable cups? According to Plasticdieet, after 16 uses your mug becomes more sustainable (including washing your mug in between). The same principle works with water bottles.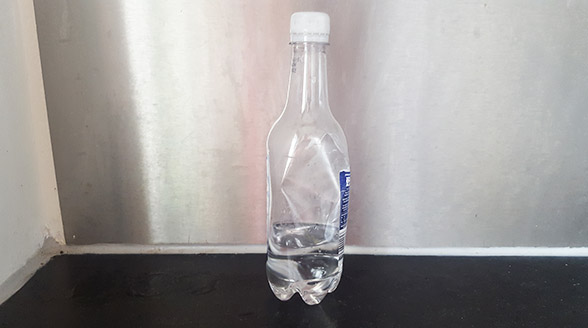 Less resource are needed to produce a single PET bottle (read our other blog for more background information), but a reusable bottle lasts many years. The footprint of your BBF is not easy to determine, as it depends on the material, production, usage and finally disposal. A life-cycle analysis conducted by Simon Lockrey resulted in favour for durable plastic bottles over steel and aluminium. This was mainly due to the high energy use needed to produce steel aand alumimium.
Compared to single-use plastics, glass, bamboo, stainless steel and aluminium bottles are all seen as sustainable alternatives. When dividing over its lifetime, the associated greenhouse gas emissions, water consumption and solid waste are minimised.
WHERE DO I REFILL MY BOTTLE?
Here our work as refill ambassador starts!
Your BBF is like a friend you always carry with you. Make it a habit to always fill her up before you go out.
Sitting in a café, bar or restaurant? Put up a friendly smile and ask the waiter whether you may refill your bottle. Do not feel embarrased about this, it's a really normal thing to ask! Sometimes there is a tap or large jar available for customers (usually on the counter), and if not the staff can fill it for you behind the bar within 5 seconds.
Locate the nearest refill point with the help of a refill app. True, there are many apps and you need to know which one shows refill stations in your area. We try to bring these projects together, so in the future you don't need to download ten different apps for each region.
HOW DO I CLEAN MY BOTTLE?
Like with a BFF, you need to pay love and attention to your Best Bottle Forever. Most bottle companies, like Dopper and Klean Kanteen provide cleaning instructions online. We recommend you to check these out for your brand. To make things easy, we listed some important cleaning tips:
You don't need to wash your BBF after every single use, but make sure to wash it regularly. Use warm (but not boiling) water.
Avoid chemical dishwashing liquids, as your water can taste like it. Instead, soak your bottle in (baking) soda and (table) vinegar to remove funny smells and tastes.
Dry your bottle well after washing.
Water bottles are designed to drink water! Use a different bottle to drink soda, fruit juice or alcoholics.
 FIND YOUR BBF
Nowadays there are so many beautiful designs, it can be difficult to choose. Durable plastic bottles are lightweight, steel bottles can keep your water hot or cold, glass bottles are stylish. Think about the main purpose. Will you be using it while commuting to work, or on hiking trails? Also take into account the size of the bottle and its volume.
Once you have found your BBF, it can keep your company for years and will not let you down. So in the end, your bottle also becomes your Best Friend Forever.
Good luck and enjoy your BBF!