Even though it's raining in most parts of Europe, it is crucial to stay hydrated, particularly when exploring new cities during our travels. However, finding a refreshing sip of water without breaking the bank can be quite challenging in certain places, as highlighted by this study. Using data from OpenStreetMap, it reveals the number of public water fountains per 100K in every country and city in the world. We're excited to share today's guest blog by Touseef Hussain, Marketing & Communications Officer at QS Supplies. Be prepared for cool infographics!
THE IMPORTANCE OF PUBLIC WATER FOUNTAINS
Public water fountains hold significant importance for the health and well-being of communities. These fountains provide easy access to clean drinking water, preventing dehydration in public spaces. Additionally, they offer a cost-effective and eco-friendly alternative to purchasing bottled beverages, reducing plastic waste and our environmental impact.
Maintained properly and equipped with filtered water, these fountains also play a crucial role in minimising the risk of waterborne illnesses, contributing to a healthier and more hygienic public environment.
COUNTRIES WITH HIGH AND LOW NUMBERS OF DRINKING FOUNTAINS
If you are in Montenegro, you need not worry about staying hydrated. This Balkan state takes the crown for having the highest number of water fountains per person in the world. It boasts 472.4 drinking fountains per 100,000 people.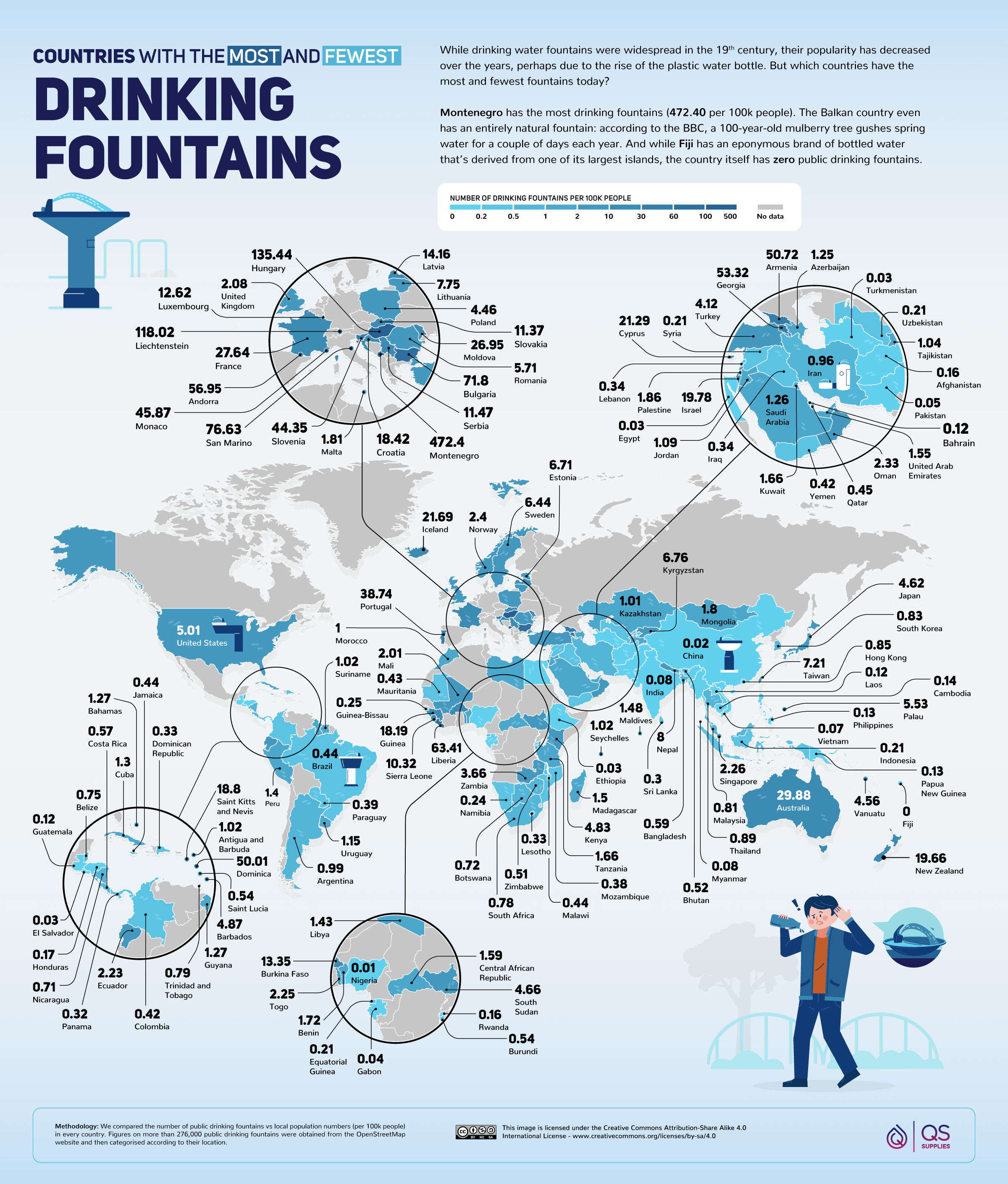 The abundance of public watering holes is a big plus for tourists visiting the country's scenic destinations, especially during the scorching summer days. Temperatures can reach up to 40°C in inland regions like Podgorica.
Nigeria and Fiji face challenges in providing public water fountains. Nigeria registers an alarmingly low number of 0.01 drinking fountains per 100,000 people. Fiji has no recorded public water fountains.
GLOBAL CITIES WITH PLENTY OF PUBLIC WATER FOUNTAINS
Switzerland, known for its focus on public utilities and expert urban planning, leads the list of cities with the most water fountains. Zurich and Basel, with 221 and 177 fountains per 100,000 people respectively, secure the top spots. Geneva also makes an appearance in the top 10, with 86.22 water fountains per 100K people.
PUBLIC WATER FOUNTAINS IN THE UK
So what about the UK? For travellers in Bournemouth, located on the south coast of England, staying hydrated is easy thanks to the city's high proportion of public water fountains in the UK
Leeds lags way behind; it has less than one fountain per 100,000 people in the city.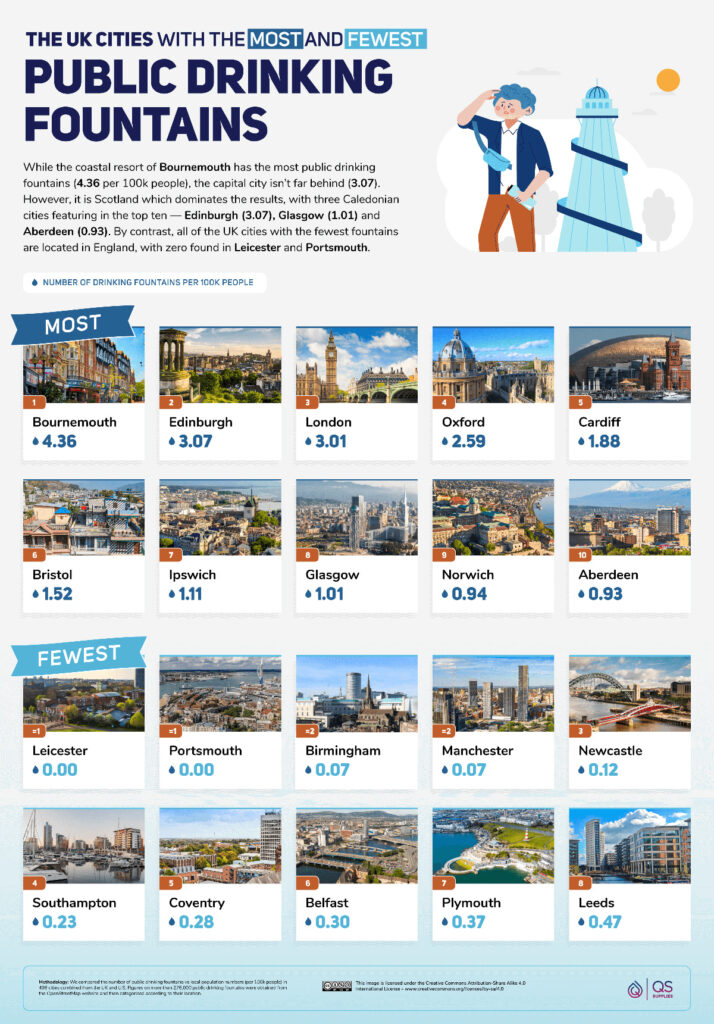 PUBLIC WATER FOUNTAINS IN THE USA
Oregon emerges as the US state with the highest number of water fountains per 100,000 people. It has 14.77 water fountains per 100k people in the USA, while Tennessee has the fewest (just 0.21).
Moving to the nation's capital, Washington, DC, boasts an impressive 24.83 water fountains per 100,000 people. That's the highest figure from any US city.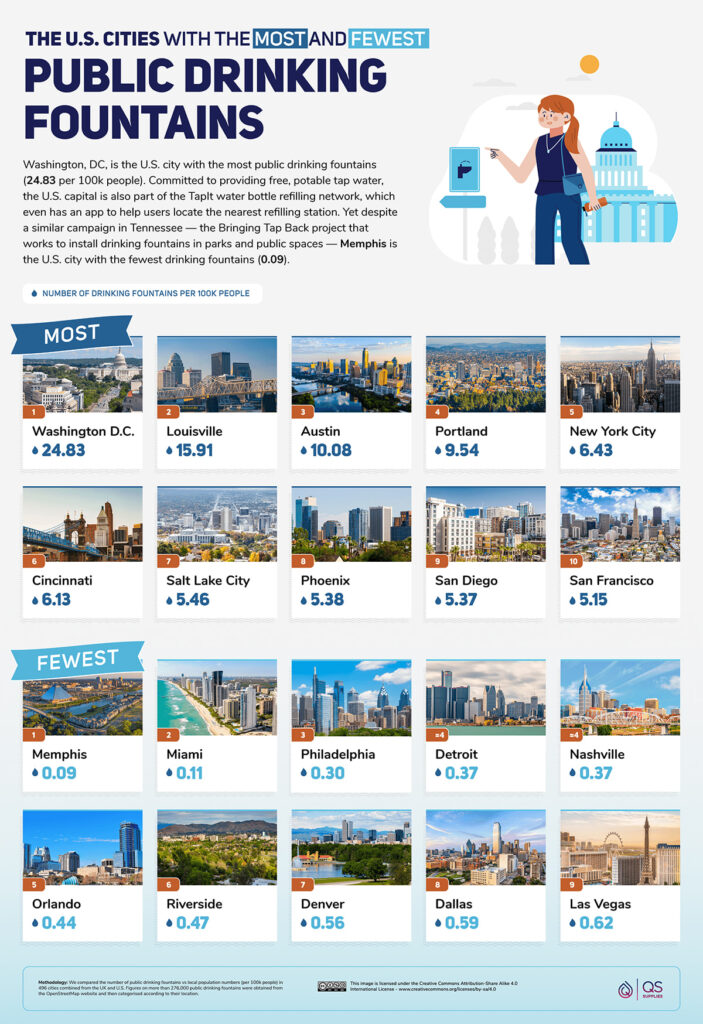 Las Vegas presents a rather disheartening scenario. With only 0.62 water fountains per 100,000 people, it's the US city with the lowest supply of free sources for drinking water.
And it's something that annoys the tourists. Sin City often charges exorbitant prices for basic necessities like water. In some establishments, you'll have to pay as much as $12 for a bottle. A bottle from a Starbucks on the Las Vegas Strip is $5.
ABOUT OUR GUEST BLOGGER
This is a guest blog by Touseef Hussain, Marketing & Communications Officer at QS Supplies, one of the UK's largest independent bathroom wholesalers and retailers. They have been in business in Leicester since 1990. The team also shares original research studies on various relevant topics.
We like to give a big thanks to Touseef. Some of our own experiences match with the findings in his study, like Refill Paradise Switzerland. Brazil on the other hand scores really low, something that RefilMe Brasil is trying to change. We need more people advocating for public drinking fountains.
Do you want to become a guest writer for our platform? Please read our guidelines.