Refill Deutschland (Refill Germany) recently celebrated its third birthday. So far, this nationwide refill organisation has put 5.400 refill stations and public drinking fountains on the map. From the start, all team members have worked voluntary. Even more interesting: it has grown into an open community project, where everyone can join. In this interview, Refill Deutschland founder Stephanie Wiermann and content writer Louisa Bahl explain how they operate.
INTERVIEW WITH STEPHANIE AND LOUISA, REFILL DEUTSCHLAND
Stephanie, you founded Refill Deutschland in March 2017. How come?
Stephanie: I was inspired by Refill (UK), Refill Bali and Refill NY and wanted to bring the concept to my city, Hamburg. So, I created the website, designed the window stickers and Refill Deutschland was born. My initial plan was to operate just in Hamburg. But soon after, people from other German cities showed interest, too. This is how it turned into a national movement.
That makes sense. You probably picked the right time to start. And word of mouth can be powerful. We'll talk about that later. Could you tell us a bit about the team and about yourselves?
Stephanie: Sure! Our core Refill Deutschland team currently consists of Michael, Louisa and me. Another 5 volunteers join us regularly and we are very happy about their work in the field of social media and research. And then we have community-volunteers all over the country. As for me, I work in web design and graphic design. Last year I started a wild herbs cooking school. In our backyards and all around us the delicious and healthy wild herbs are growing but we lost the knowledge about it. I want to bring them back in our lives.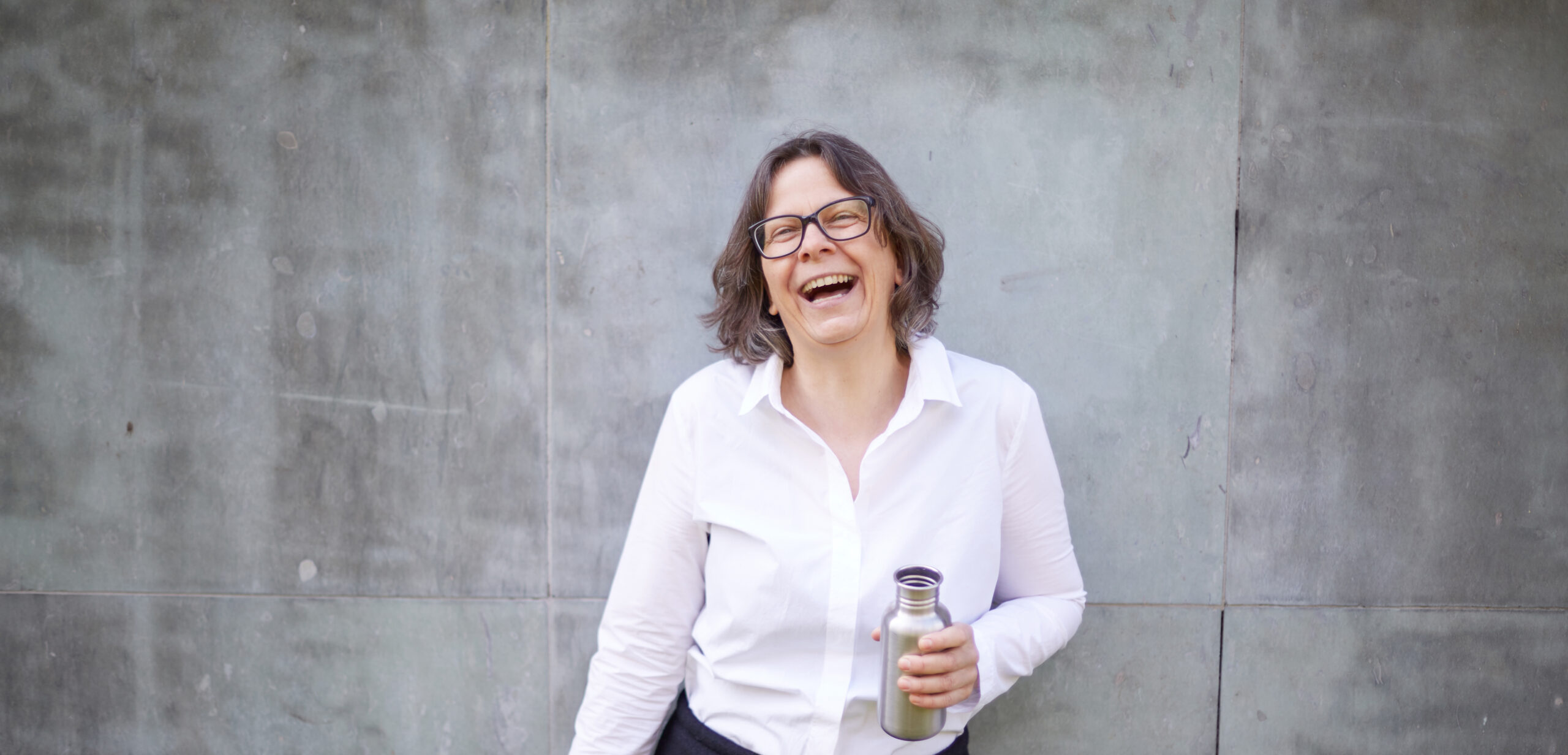 Louisa: I joined the team about in January 2019, but I noticed the project already in September 2018, when I saw a small article in a magazine. I have always been interested in water and wrote my first school project about Nestlés drinking water projects with the age of 17. As I wanted to engage for something connected to the environment and especially water,  Refill Deutschland is a good fit. I am the content writer for Refill Deutschland.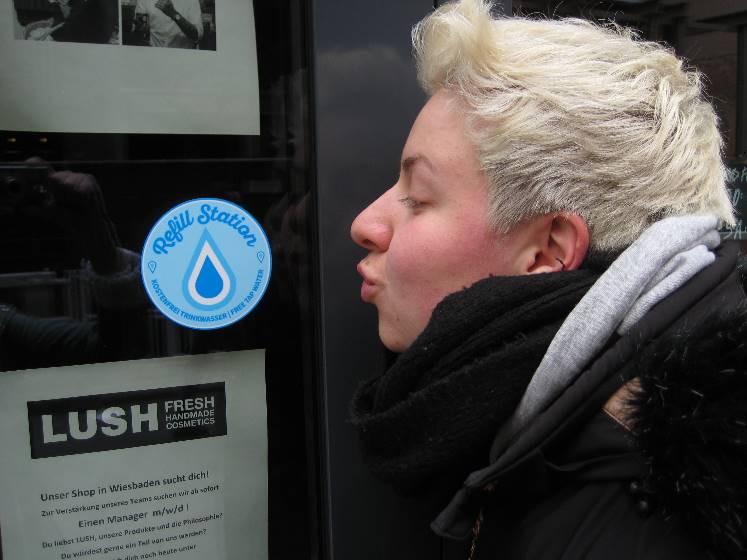 EASY AND ACCESIBLE
Happy to hear that. You all run this project as volunteers. Is that a conscious decision or out of necessity? 
Stephanie: We have discussed this topic a lot. Of course, we could try to sell our own branded bottles or look for sponsors as most refill initiatives do, but this means other commitments. We keep coming back to the same ideals: as easy and as accessible as possible. In addition, we want to lower the boundaries to refill, even a jam jar is suitable!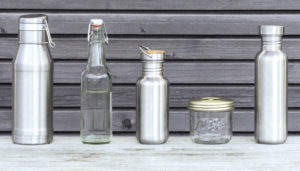 Therefore, we keep our operational costs as low as possible. I maintain the website and we have a set of banners. New refill stations print or order their own window sticker.  Our communities (in various German cities) also choose the low-cost DIY approach, for example when organising campaigns.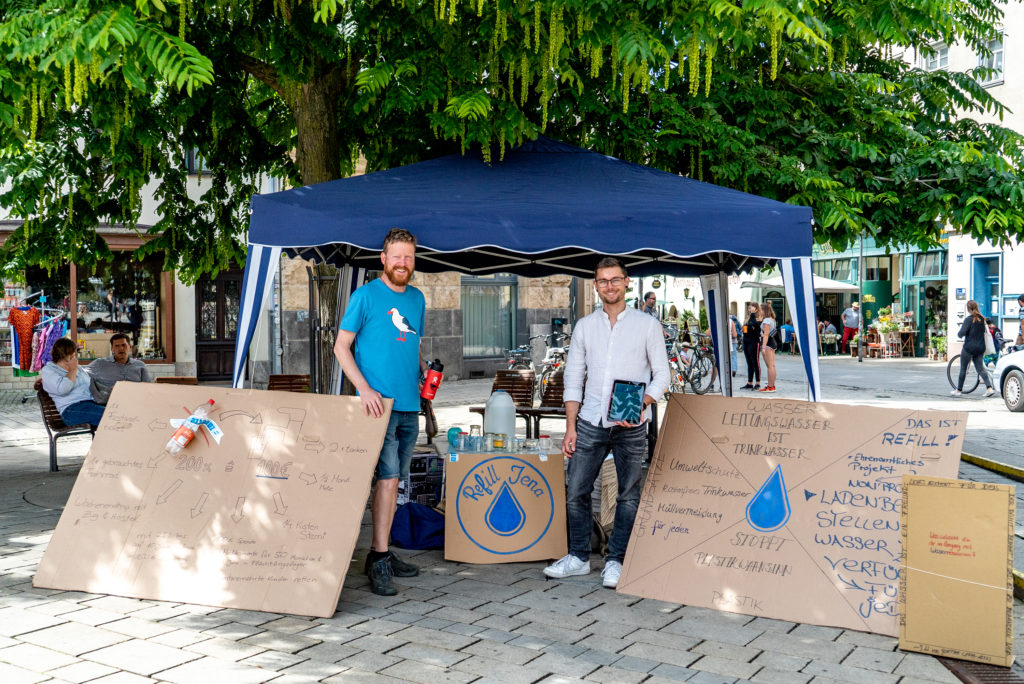 Louisa: I think we all are intrinsically motivated to change the ways how we consume and how we pollute, so we all invest our free time for the good. And as Stephanie said, we all agree that our guidelines – that we want to stay independent and open and free to all who want to join – are an outstanding signal of Refill Deutschland. We had more than 50 cities, in which people were organizing the Refill cities, and at some more than twenty distribution stations you can pick up the blue stickers for free.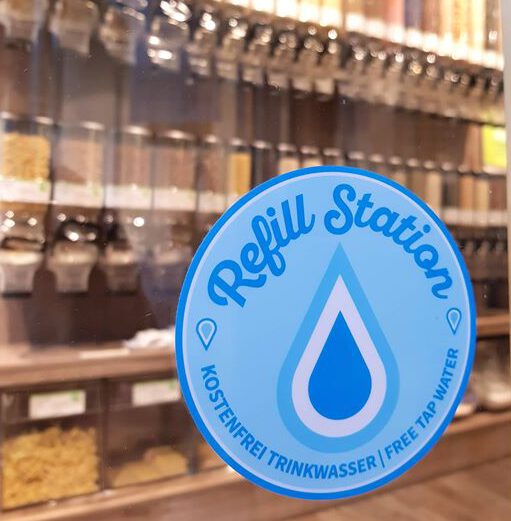 Ah nice! At Refill Ambassador we have a very similar approach. We all work as volunteers too. How do you balance the amount of time and effort you spend on this project?
Stephanie: It's a lot of fun. In case you're thinking about starting a refill platform in your own country, just do it! Now is the right momentum.
Louisa: As in my opinion, Refill Deutschland is an important step to reduce plastic waste and revalue our tap water, I would love to do more, also because I really like writing, particularly about topics which are close to my heart It has to fit with my master degree, my student jobs, and as it is all voluntarily, also with hobbies and seeing family and friends. But luckily, there is no strict schedule for publishing new blogs. I basically write when I've time and when there is something meaningful to share.
Stephanie: At some point, it got too much. We were sending out window stickers, lobbying for new refill stations, manually adding refill stations to the map, etc. So last summer, we decided to change our approach. Louisa, Michael and me would still facilitate Refill Deutschland, but the communities would take care of themselves. We redesigned the website, altered texts and made it easier for others to add refill stations.
Wow! And how did that go?
Stephanie: It felt like letting go of my 'baby', but it went surprisingly smooth. The number of refill stations on our map is still growing, albeit a bit slower than at first.
ADDING REFILL STATIONS TO THE MAP
The refill stations are listed on the 'Karte von Morgen' map. How does this work?
Louisa: It is an open source app. On our website, you can add both public fountains as well as enterprises. By using 4 hashtags #refill #refill-station #trinkwasser #leitungswasser (tap water) users can find the refill station in the Karte von Morgen website or app (available in beta-version).
Can any venue be a refill station?
Stephanie: Some people wonder whether we should add restrictions. Could an 18+ adult store be a refill station? Or what about large coffeehouse chains, who serve all take-away drinks in single-use plastics? These are tricky questions. We decided not to take stands here. Everybody should be able to join the network. The more stations the better.
Louisa: Again, the community is self-supporting here. When people have bad experiences with a certain refill station, or when the refill station is not in use anymore they can give online feedback. Or even delete the station.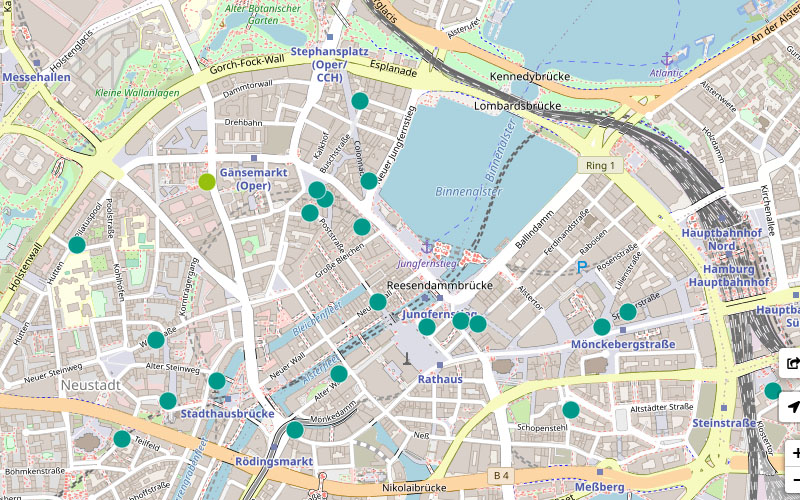 I agree. You cannot control everything. Plus, people can always choose to not use certain refill stations. Last question: where do you think Refill Deutschland will be in five years?
Stephanie: I don't know, I'll be almost 60 years old by then! Let's hope we do not need Refill Deutschland anymore. Because refilling and drinking tap water even at home has become completely normal.
Louisa: I would hope so, too. But nah, I think we'll still be there informing and inspiring the public, because as with other sustainable changes, it probably needs more time sadly…
Cool! In the meantime, we'll keep you up to date on the latest developments. Thank you so much for sharing your experiences, Stephanie and Louisa. Tschüss!
JOIN THE MOVEMENT
Refill Deutschland hardly uses promotional materials due to environmental concerns, so let us help them with a bit of promo here on this blog…
Do you have a venue in Germany and would you like to become a refill station too? Great! It is fairly simple:
print/order your Refill Deutschland window sticker and optionally a poster;
list your refill station on the map;
invite thirsty refillers;
(optional) add your refill station to other international refill apps, (read our blog for more information).
Follow Refill Deutschland on facebook